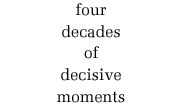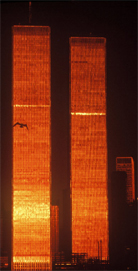 World Trade Center, 1979, Santa Barbara Museum of Art, Permanent Collection


For more than 40 years, award-winning photographer Santi Visalli traveled the globe as a news photographer and photojournalist for some of the world's leading magazines, newspapers and book publishers. A master craftsman, he has been acclaimed for the range, precision and poetry of his work.

He is a highly prolific photojournalist, who has covered the news from social issues to politics to lifestyle, and has photographed six sitting Presidents of the United States, Kennedy, Johnson, Nixon, Ford, Carter and Reagan. He has worked on films with such directors as Federico Fellini and Lina Wertmuller, and has photographed numerous personalities.

Visalli's photos have appeared on the covers of and in more than 50 magazines and newspapers worldwide including

The

New York Times, Newsweek, Time, Life, U.S. News & World Report, Forbes, American Heritage, Paris Match, Stern in Germany, Oggi, Epoca and l'Europeo

in Italy, and magazines in Sweden, South Africa, Australia, Israel, Japan and other countries. In Italy, his credits have been so numerous that he says the Italians, especially during the 1960s and 1970s, "have probably seen America through my eyes." In 1996 he was made a Knight in the Order of Merit of the Republic of Italy.

Expanding to a more permanent form of photojournalistic expression—coffee-table books—Visalli created eight full-color cityscapes published by Rizzoli:

Chicago

(1987),

Boston

(1988),

San Francisco

(1990),

Los Angeles

(1992),

Miami

(1993),

New York

(1994),

Washington, D.C.

(1995) and

Las Vegas

(1996). Each runs more than 200 pages and takes him 12 to 18 months to shoot, to capture seasonal scenes and events.

Visalli's photography has been exhibited in the United States and Europe, in both one-man and group shows. Among them are:

•

American Scrapbook: Three Photojournalists, 75 Years

(1980), with Lewis Hine and Michael "Tony" Vaccaro, a critically acclaimed documentary of America and of news photography from the turn of the century to the 1970s.

•

A Love Affair With New York City

(1981), which broke attendance records at Nikon House at Rockefeller Center, attracting more than 11,300 visitors.

•

La Magna Grecia: The Greek Heritage in Calabria

(1984), initially exhibited at the Rizzoli Gallery in New York. Its multiple awards include the 1987 First Prize for the Environment from the Magna Grecia Association in Rome.

•

A Walk Through Urban America

(1992), celebrating the 500th anniversary of America. Sponsored by the Italian Cultural Institute at Casa Italiana Zerilli-Marimo in New York, the nine-city journey included photos never previously released.

•

Vintage Black & White Photographs

(1996), featuring 12 photographers of Westchester County, New York.

• Impressions of America (1997), a one-man show in St. Augustine, Florida

One New York City impression—a Visalli photo of the giant Christmas tree at Rockefeller Center—became that city's 1997 yuletide emblem, appearing on the Metropolitan Transit Authority's automated Metro Card and on subway and bus posters.

Visalli has appeared on American, Brazilian, Japanese and European radio and television programs, including a RAI-TV (Italy) special on the most important Sicilians in the arts in New York. He is a former president of the Foreign Press Association of New York, whose 400 members representing 60 countries cover the United States for the world, and served on the board of the Association of Italian Correspondents in North America.


___________________________


Visit TheFinestPhotos to view or purchase a signed, limited edition print from the Visalli collection.


___________________________


Born in Messina, Sicily, Visalli immigrated to the United States in 1959 to launch his career. Until 1998 he was based in New York, where he worked independently and as director of his own photo agency and was associated for many years with Italy's largest photo agency, Publifoto of Milan, initially as New York correspondent. He is represented worldwide by The Image Bank and Archive Photos of New York.

Visalli and his wife, Gayla, former executive editor at Reader's Digest/Illustrated Books, live in Santa Barbara, California. They have two grown sons, Ivon and Tony.